Here is a good example of how to roll out a time trial….start smooth and strong.  Begin to kick open "doors" to fully open up your cardiovascular system.  Imagine a large roll of carpet…rolling itself out.  It starts slow, then rolls out faster and faster until it snaps like the end of whip.
At the end of the 4+ min video you will see the whip.  I catch the rider who left  ahead of me.
In this race:  I  may have been thinking about Pac Man pursuing my prey.  I got him before the line!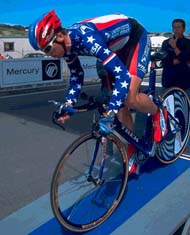 Click link to watch the TT
Have a great next ride!
Marty