I thought I would comment on how we are communicating today.
As a retired Professional Cyclist I find that there are people still interested in certain aspects of my life and our cycling business. Over the years people have asked me if I have ever thought about writing a book which sounds like too much work right now. However, I wish the technology that exists today existed while I was racing all over the world. I did over 900 races in Europe alone andtaying in touch would have been so much easier with today's technology
Today I am able to type a text message with my Nokia phone ( 9300 Communicator & a "brick" which I love ) which posts messages directly to Twitter;  FaceBook and friends all within seconds! With the same technology we can post the same messages to any website that we have access to. By simply installing a Twitter widget our messages land right on our homepage.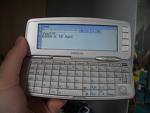 Throughout the year we will post messages from everywhere and about everything.   A MJCT travels throughout Europe we will post random messages that may be of interest to you.
When we are at the Tour de France we will post messages about the action from "our" perspective. When we eat in great restaurants or find a great new wine we may feel compelled to share the information with you.  From time to time we will have to tell you about the incredible road cycling on our trips.
To experience an active Cycling Vacation of a Lifetime you'll have to join us….     When you do bring your phone/texting device and post your experiences daily.  ( Hourly ? .. non-stop…?  )
Thanks for reading,
Marty Jemison Cycling