My blood was pumping harder this weekend…..because  I remember what it was like to ride Paris-Roubaix.   On Saturday night before I went to bed I sent Jeff Lauder (BMC) a text to wish him luck in his first PR.   When I woke up on Sunday the first two things on my mind were a hot cup of coffee and sitting down to see the race.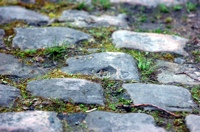 I rode Paris-Roubaix 3 times in my career.  My best ride was in 2000.  I made the crutial break of 17 riders within the first 40kms of racing .  Paris Roubaix has 26 sections of bone jarring cobbles for a total of 30+ Miles in a race that is over 260kms.  No words can describe the conditions and telling you to imagine riding over 30 miles of bad train tracks only begins to describe the scene.   Being in the break was better than entering the cobbles with 180 riders at 55 kph all fighting for position.   ( in a previous edition I nearly rode into Johan Museeuw as he lie with a shattered knee in the Arrenberg Forest)
In 2000 we lost a rider from our break after each section of cobbles until we were down to 6 riders entering Arrenberg Forest.   Arrenberg comes at about 165 kms into the race and is a very descisive section of Pave'.  This is where I lost contact and as remaining 4 riders left the Forest intact.  Over the radio Johan  told me to "eat and drink because we need you" !  I had already been in the break for 90 kms or so killing myself…. but there was more work to be done.   When the Postal train caught me,  I was immediately at the front riding at 50+kph.  I put in a huge effort and drilled it for 2-3  kms.  ( Frankie A. was positioned behind me telling me where to ease up for  the dangerous turns.  Thanks Frankie)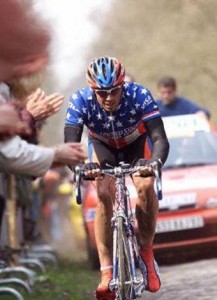 I have been back to the Pave' on a few occasions with  MJCT groups on our "Spring Classics" Bike tour.   My guests are excited to ride on the Pave' and Arrenberg Forest is the highlight.  First,  I have them ride 2-3  sections to warm up before we hit the Forest.  Only the times I have offered "free beer" have our guests made it through without putting a foot down or diverting to the dirt path which parallels the cobbles.   (barriers keep the riders on the cobles durring the race).  We all need incentives and Belgium beer is a good one.
Marty Jemison Cycling Tours runs trips to the Spring Classics on select years.
See:  http://www.martyjemison.com/springclassics.html
Thank You to Jason Tull for sending the above Paris-Roubaix picture of Marty Jemison after reading the "Sending Pictures" blog post.
Marty Jemison Cycling