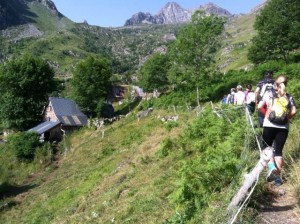 High up in the Pyrenees mountains, with goats, cows, dogs, sheep, and one donkey, we went to work with a cheese farmer for a day.  At lunch we sampled seven cheeses, two different kinds of yogurt drinks, meat, pate, hot mint tea, and homemade bread from the farm. For dessert we had pumpkin spice bread made that morning.  We saw cheese being made and we learned all about the culture around the area. (Luz-Ardiden)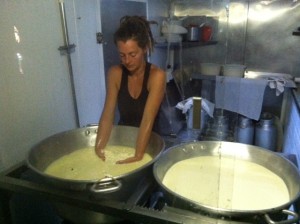 In the late afternoon, we saw many goats of all different kinds.
The donkey-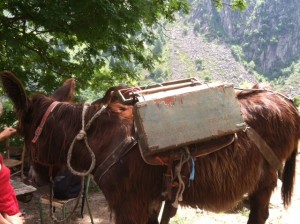 When the tour ended they loaded up the donkey with cheese and other supplies that are too heavy for people to carry.  The donkey walked back down the mountain with us and our guide switched the supplies and cheese and the donkey walked back up to the farm all by himself.
We had an amazing experience learning all about milk, cheese, the animals, and the culture while the riders climbed the Col du Marie Blanc, Aubisque and Soulor.

~ Anonymous – Non riding partner on our Trans-Pyrenees Trip