I like this picture taken by Elizabeth Kreutz.  It reminds me of the times in the Peloton when I could actually take in the beauty around the races I did throughout Europe.  The riders are in a single line,  which means its fast,  but I doubt anybody is running in the red zone.
As a rider it was times like this where I could take my eyes off of the rider in front of me…  for at least one second.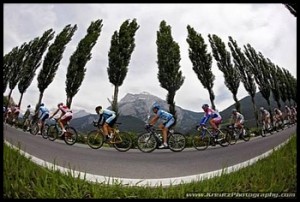 However,  there are many, many places throughout Europe  ( over 900 days of racing )  where I have missed the charm.  There are times where it could be 2-3 hours before you could lift your head to see the side of the road…… fast racing!
One example is Liege-Bastogne-Liege.    I raced the race 5 times and never saw the Eddie Merckx  monument until I returned as a cyclo-tourist.    I was shocked at its prominance and wondered how I could have missed it…but I know how.  It lies at the top of a hellish burg,  and we topped each one of those  with our eyes popping out….deep in the red zone.    I have many, many examples…
Its  been an all together different experience to return to  these areas with Marty Jemison Cycling Tours.    Riding a very comfortable rhythm through Europe affords us to take in all of the beauty.   There are so many treasures to discover…   Its truly the best way to travel throughout Europe.
I'm getting anxious for my return trip this year!
Cheers,
Marty Jemison Cycling